Blaeu, Willem
Willem Blaeu
Willem Janszoon Blaeu - astronomer, mathematician, atlas/map maker, globe maker, publisher.
Born: 1571, in Alkmaar or Uitgeest, The Netherlands.
Died: October 21, 1638, Amsterdam, The Netherlands.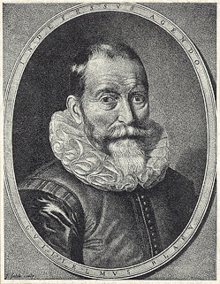 Most important work:
Willem Blaeu published a large number of atlases, globes and wall maps, but the most impressive ones were the atlases at the end of his life. In the 1630s he added to his own copper plates part of the works of Mercator and Jodocus Hondius II. This resulted in
'Appendix', an atlas that is to be considered a mere expansion on Mercator's maps (1631).
'Theatrum Orbis Terrarum', a much more complete atlas in two parts, with some 200 maps (1634).
Willem's son Joan continued to enhance the atlases and brought them together in what we may call one of the classics in mapmaking, the Atlas Maior (see description Joan Blaeu).
Life of Willem Blaeu:
Blaeu studied astronomy and math on the Danish island of Hven, under the famous astronomer Tycho Brahe. There he also received a practical education in making instruments and globes. Back in Holland in 1595 he set up a shop in Amsterdam, producing celestial maps and globes. He quickly saw that the market for these products was limited and decided to print terrestrial maps, atlases and books as well. In 1605 he opened a much bigger shop on the Damrak, in down-town Amsterdam and very successfully sold his maps to the navy, sea-farers, tradesmen, aristocrats and essentially everybody who could afford to have a map. Wall maps were a symbol of status and one can find them in many of the works of 17th century Dutch painters, such as Frans Hals, Jan Steen and Pieter de Hoogh. In 6 paintings by Johannes Vermeer one can see detailed maps by Willem Blaeu.
(De Luitspeelster – Vermeer)
In his role as publisher of books, he produced works of famous scientists like Descartes, Grotius, Snell and others.
His fame as a publisher and mapmaker grew steadily and Blaeu became an established name in the Dutch scientific, cultural and business world.
He also impressed the owners of the V.O.C., the Dutch East India Company. The captains on their ships needed good maps for their explorations in the East and they appointed Blaeu as their chief cartographer. Blaeu included in the agreement an obligation for the captains to measure and re-measure the territories they visited, so that he could further improve his plates and always have the most accurate and updated maps in the market.
Blaeu also had a special agreement with a number of missionaries, who sent him valuable cartographic information. One of them, the Jesuit Martino Martini, sent him detailed information on parts of China, from which Blaeu made unique, detailed and accurate maps.
Two of Blaeu's sons, Joan and Cornelis, joined the company in the 1630s. After their father's death in 1638, they took over the business.
Why do collectors love the maps of Willem Blaeu?
The House of Blaeu is a tremendous brand in the world of publishing and mapmaking. In the first half of the 17th century, the company was the largest printing house in Europe. Even today, people who know very little about cartography often recognize the name. The quality and level of detail in the products was unique for that time.